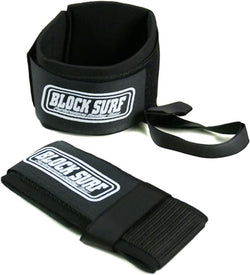 Plaia Shop
Blocksurf Deluxe Fin Saver for Body Boards
High Quality Padded with high-quality Neoprene so you do not experience any rubbing on your ankles. The tethers loop onto the swim fins, fin and attach at the ankle.

Secure fit and Adjustable cuff suitable for all sizes with velcro ankle strap. It pads your heels from that chafing rubber strap, and keeps your swim fins firmly attached to your foot.

Never lose your swim fins Tethers are a comfortable leash for your favorite bodyboarding fins, fins, diving fins and swim fins. This ankle cuff is EASY TO USE by attaching the fins to your ankle.

Compatability Block Swim fin Tethers work great for all swim fins. These are the best Insurance policy you can get in making sure you dont lose that expensive swim fins.

What they do, Fin tethers connect your ankles to the swim fins, making sure you're not losing them while riding a wave or getting ripped off by a close-out wave.